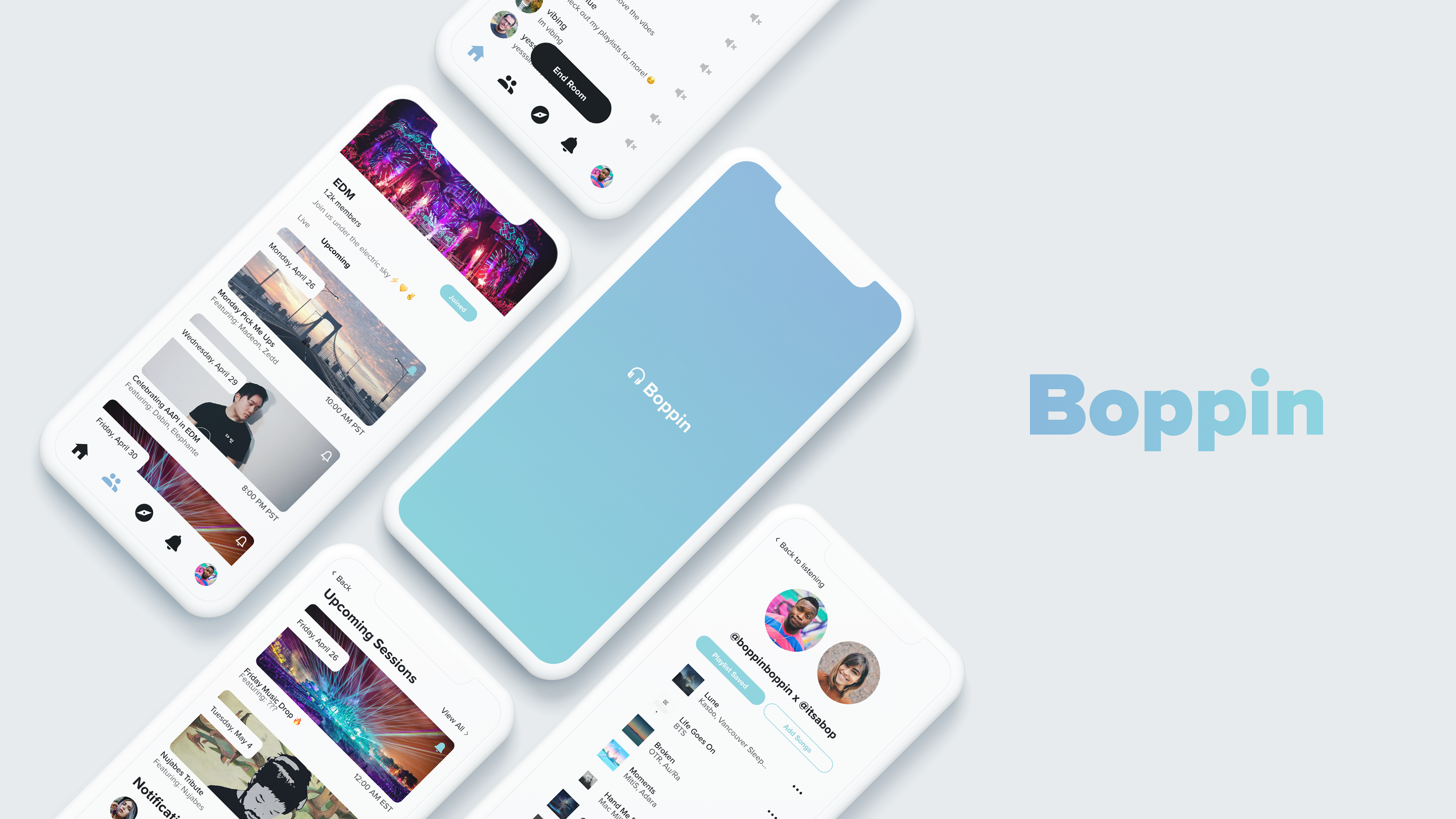 Project
Boppin is a music sharing community that aims to help music lovers continue to share and discover music with others in the post COVID-19 era.
Role
Skills
Interaction Design, Wireframing and Prototyping, User Research
Duration
24-hour design sprint
Problem Statement
The pandemic has fundamentally altered how we engage in social interactions. 
As we near the post-COVID era, how might we continue to share music experiences, discover new genres, and meet others who share our music taste in a safe yet interactive way?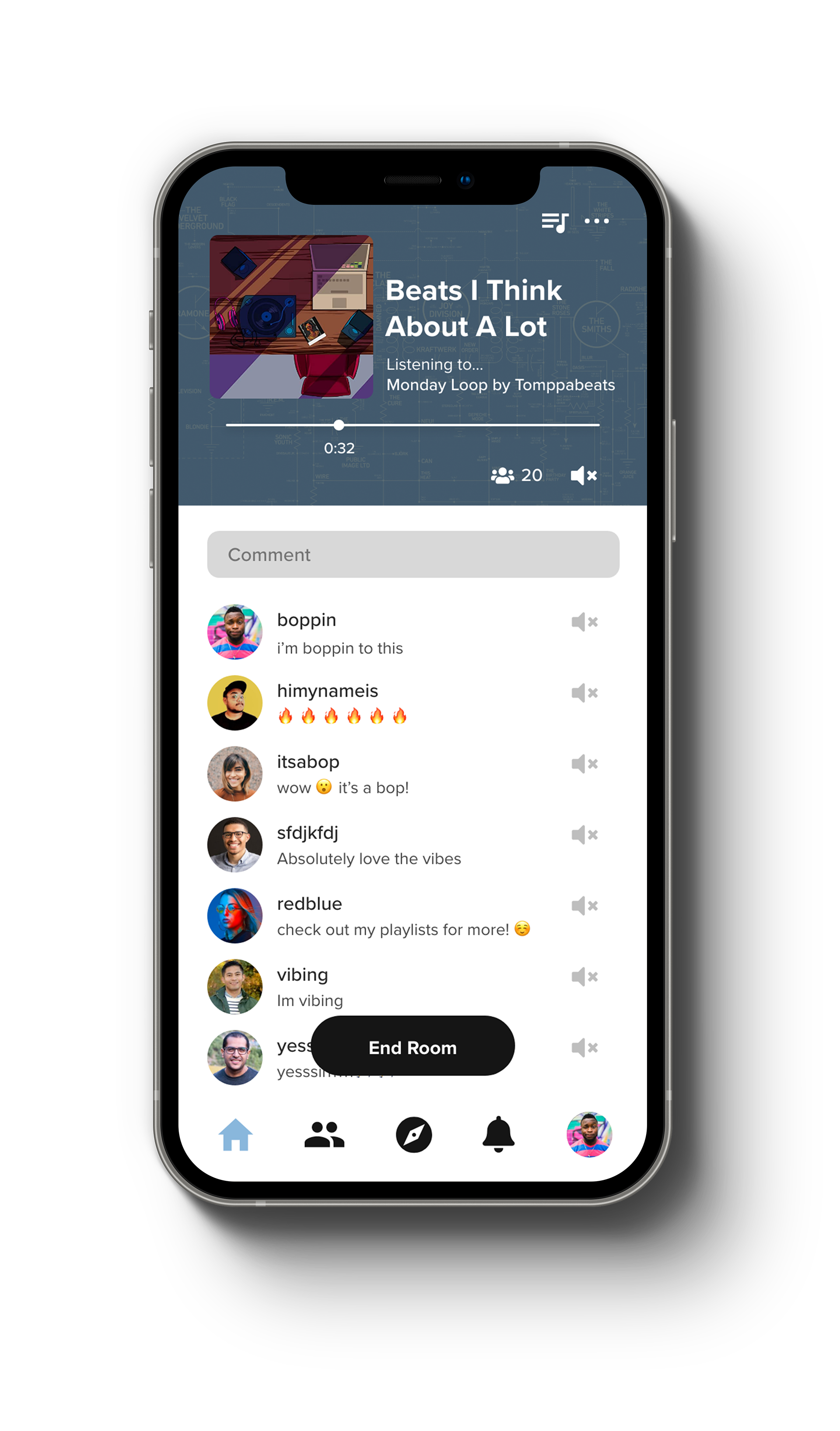 Through Listening Rooms, users can discuss tracks together and make new friends through their mutual love of music.
Find Communities
Users can join communities that host scheduled Listening Room sessions to enjoy and discussion music together, such as celebrating album drops and enjoying nostalgic throwback tracks together.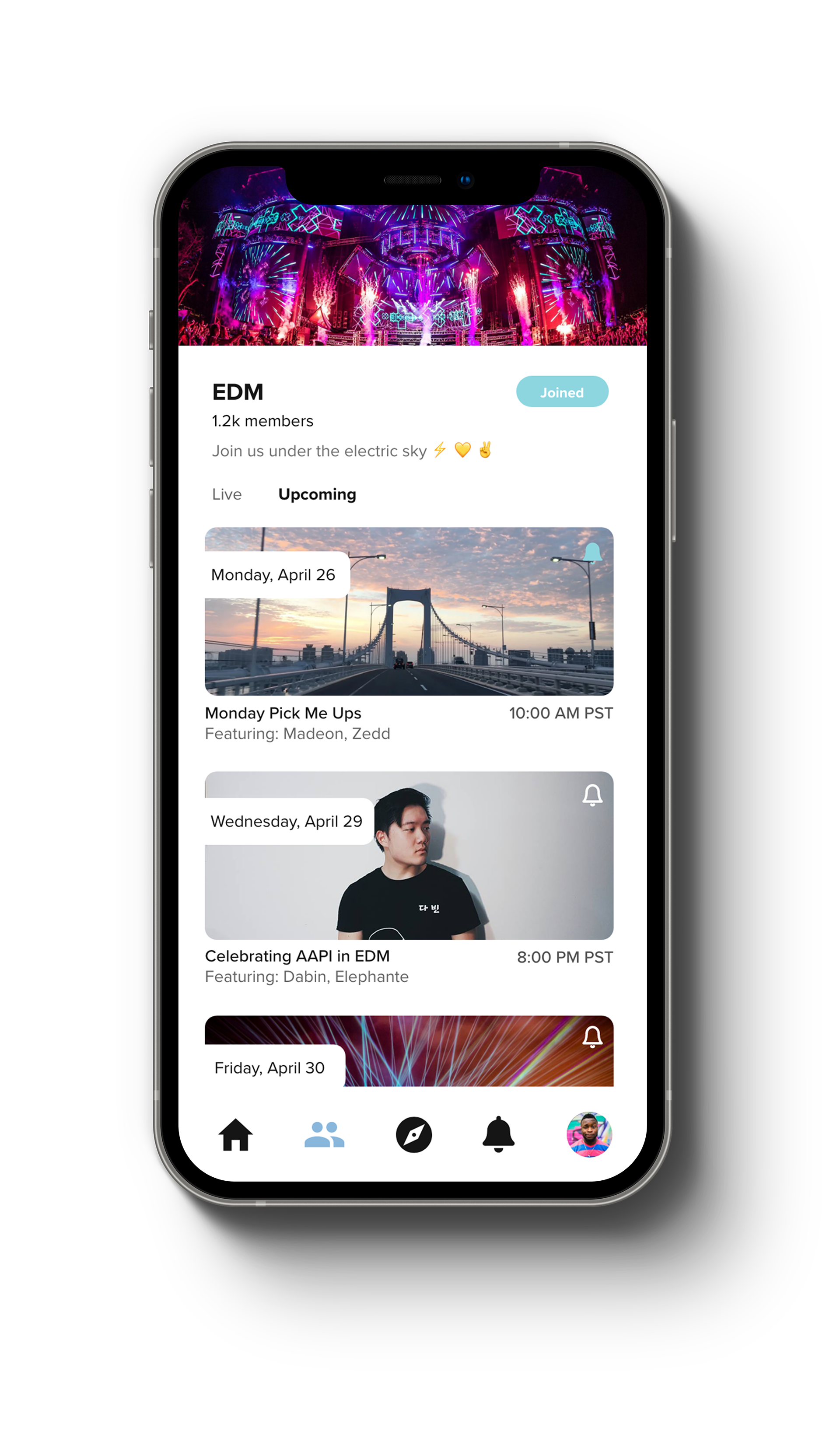 User Research
In order to identify the target user base and pinpoint the need for our solution, we created a targeted survey and obtained the following key insights:

Takeaways
Our findings indicate that many people feel that finding new music can be challenging, and this is especially true during COVID-19. While digital events helped to continue sharing music, a major part of the experience was missing —
meeting new people
and
sharing the good vibes with others.
A major way that people find new music is through interacting with others and exchanging songs and playlists, so our app aims to address this need.
Comparative Analysis
We examined two concepts, Spotify Group Session and JQBX, to assess the quality of the current solutions and the improvements that can be made.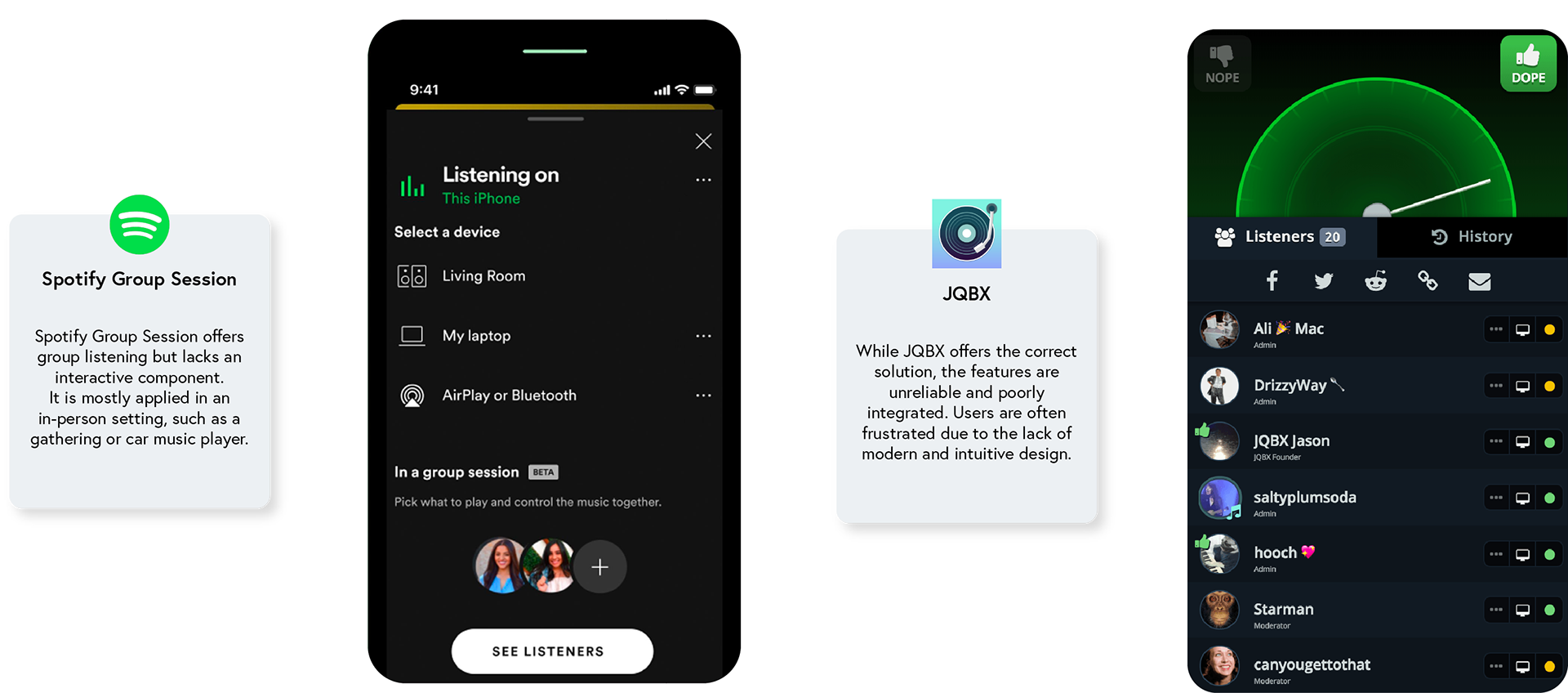 Final Prototype
View our final prototype below!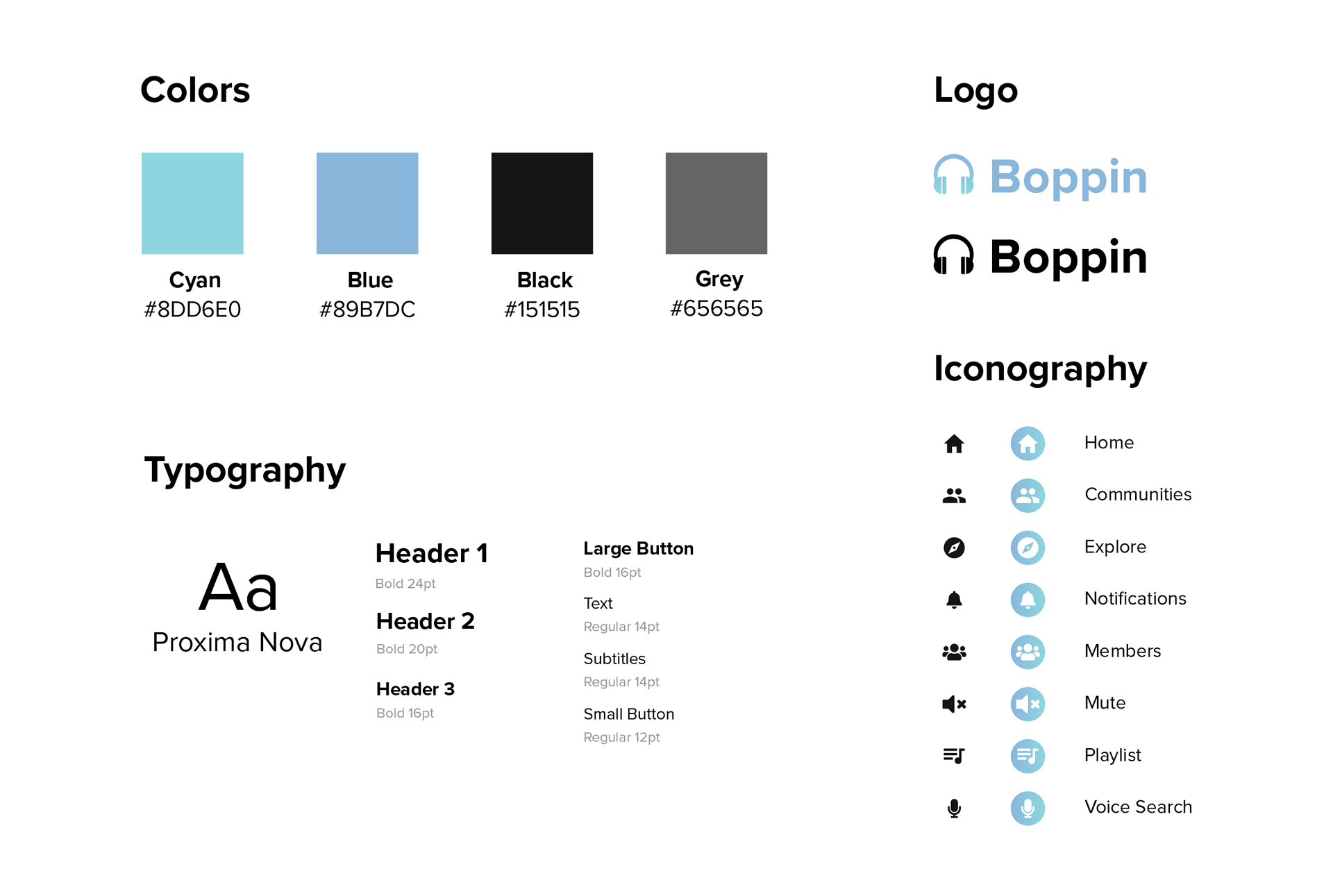 This project was a wild ride, and it was super exciting to become finalists and present our prototype to the judges! I am so proud of my teammates and what we accomplished in the span of 24 hours. I especially learned the value of brainstorming — my teammates and I spent a long time discussing potential solutions, conducting user research, and planning each screen before beginning the wireframing process, which allowed us to easily execute our ideas in the end.